Welcome To
American Championship Wrestling

TO ENTER SITE - CLICK ON LOGO or use link below:
This web site has been moved and is being updated and rebuilt, you can get to it at the address below:
http://www.acwwrestlingva.cjb.net
also we have the link so you can visit the web-site of NewAge Wrestling
You can still check out our pages on this web site until the other is posted. Thanks
Plus we have a web-site built by a long time ACW Fan you can check it out at,
and let us know what you think about any of the sites you view by writing to us on the message board, link to it below and if you go to the message board if you click return to web-site it will take you to our new one, so if you wish to remain on this on just hit back.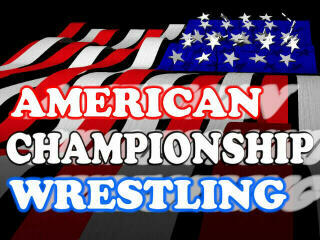 " ACW Combines Web-Sites "
American Championship Wrestling has now combined the two ACW wrestling sites into one so we can serve you better, we did this because of the trouble with updating both web-sites made it hard to keep going back and forth trying to update both sites and we would get behind in our updates, now we can make sure our main site is updated and you can still use this site for headlines and also to enter the main site as this web address is easier to remember, you can also use this to contact ACW and a message board link will be left here. Thanks and please let us know if this helps or hurts the info you need.
ACW Starts 2005 w/Good News
American Championship Wrestling starts off NEW in 2005, first we brought in a new management team, along with what we had we have added a former promoter from another indy group who has some new ideas to put into action, also we are working with another promotion "New Age Wrestling" where we plan on co-promoting wrestling events combining Old School and New School together on one show, so the wrestling will have some of both so now fans can enjoy their type of wrestling plus see some of the other, we have high hopes that this will be great for both the wrestling and the fans.

Boris Zhukov and Roanoke's own Rolling Thunder both show up to the first NAW/ACW wrestling event to see the Evolution of Wrestling and the debut of the young rookie "Scott Weddle" and New Champions crowned as ACW and NAW put all Championships on the line at Jackson Middle School last Sat. Apr. 9 in Roanoke, VA.(SEE RESULTS)
The next show will be April 16 in Pulaski, VA as once again ACW and NAW will work together on a wrestling event, see Up-Coming Shows for the whole card.
Rumor is former WWF SuperStar Boris Zhukov may be on hand at this show also, as Jimmy "Boogie Woogie Man" Valiant is already going to be on hand, no telling what will happen if these two get together in Pulaski.
Check out the interview with
ACW SUPERSTAR
"BORIS ZHUKOV / JIM NELSON"
Mid-Atlantic Wrestling Gateway http://www.midatlanticwrestling.net/Resource_Center/interviews/interviews.htm
ECLIPSO & JIM NELSON TEAM UP ONE MORE TIME


Check out the "Boris Zhukov / Jim Nelson" and "Eclipso" mend fences and team-up again to attend the Mid-Atlantic Wrestling Legends Convention & FanFest in Charlotte, NC on 1/ 31 - 2/1, 2004 see pictures and more at Mid-Atlantic Wrestling Gateway http://www.midatlanticwrestling.net/


ACW MESSAGE BOARD


Looking for a fund raiser or just want to see AMERICAN CHAMPIONSHIP WRESTLING in your area,
contact us at our website or call/write
AMERICAN CHAMPIONSHIP WRESTLING
2123 WEST MAIN STREET
SALEM, VA. 24153
(540)- 389-5891



American Championship Wrestling is currently being sanctioned under the promotion of NewAge Wrestling which is Licensed and Bonded in the State of Va. also it's SuperStars have been Licensed in Va. and trained by professionals; any moves, holds, matches, or anything pertaining to their performance that you may see on this site was performed under supervision. We do not recommend, promote, or endorse you performing anything seen on this site. Please DON'T try this at home!
ACW, ALL PICTURES AND CONTENT ON WEBSITE ARE PROPERTY OF AMERICAN CHAMPIONSHIP WRESTLING, AND CANNOT BE REPRODUCED OR REDISTRIBUTED IN ANY WAY WITHOUT WRITTEN PERMISSION FROM AMERICAN CHAMPIONSHIP WRESTLING.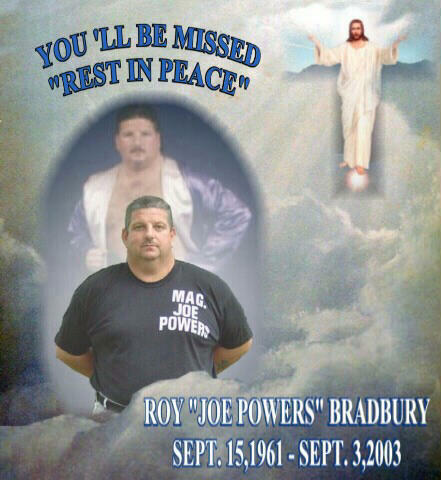 IN MEMORY OF ROY "JOE POWERS" BRADBURY
SEPT. 15, 1961 - SEPT. 3, 2003